Our Quality
Standards
We have experienced Quality monitoring staff responsible for ensuring all tests has been done periodically to maintain the European standard, We perform the following tests to ensure quality of our products, We also housed a physical testing lab to conduct basic physical tests for our leathers using SATRA test methods. which, includes the following tests mentioned below.
Testing Centers
SGS, CHENNAI, TAMIL NADU, TUV AMBUR, TUV BANGALORE, CLRI,Chennai, Tamil Nadu, FDDI, Sriperumbudur, Tamil Nadu, BLC, UK.
Testing Performed
Reach, Dmf, Chrome Vi, Pcp/Tecp, Formoldehyde, Cadmium, Nickel, Chrome Vi After Ageing, Sccp.
Satra Test Methods
Tensile strength, Trouser leg/Single edge tear strength, Baumann tear/Double edge tear strength, Crocking, Circular Rub fastness, Veslic Rub fastness, Vamp Flexing, Martindale abrasion, Maser penetration,
---
Registration
ISO 9001:2008
Manufacturing og finished Leather: Raw Material Assortment, Crusting, Dyeing, Finishing, Testing and Quality Controlling, Exports, Leather products like Safety Hand Gloves, Leather Garments, Wallets, Shoes Upper, full Shoes.
Certificate Number: 11159-AQMS-1259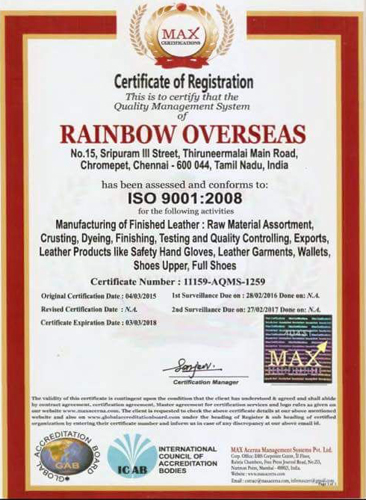 ---
Registration
ISO 9001:2015
Manufacturing and Processing of finished Leather and Leather products
Certificate Number: 1709QMS080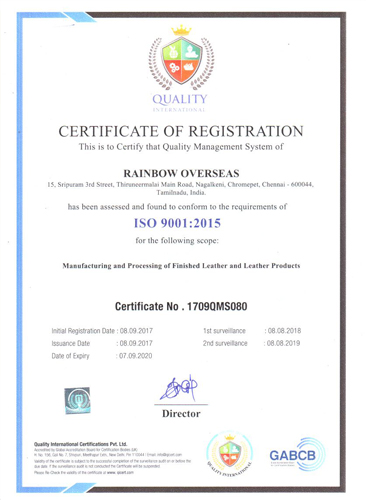 ---
NSIC
SMERA Rating.
NSIC-D&B-SMERA Performance and Credit Rating of SE 2B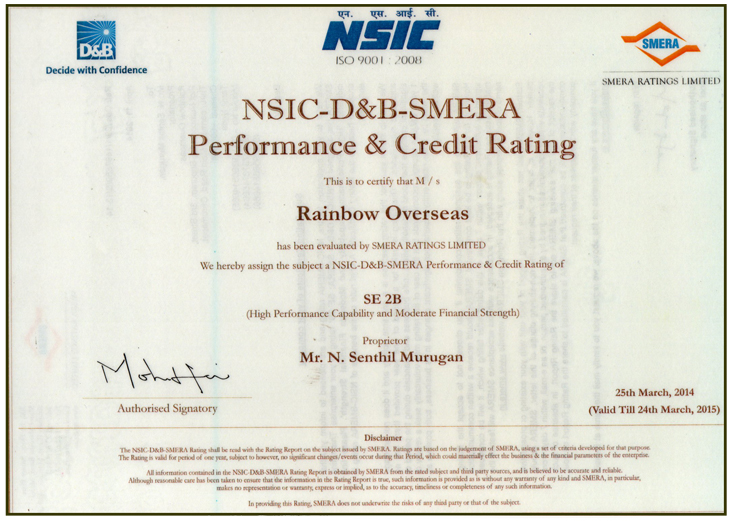 ---